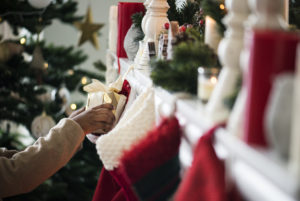 As we head into the week of Thanksgiving, the upcoming holidays are on the hearts and minds of people around the country. It's the time of year when we start to plan on gift giving for those we love the most. This year, consider giving a gift that means the most; gift someone special in your life time away from the chaotic day to day at one of our romantic Bed and Breakfasts in Kentucky. Our collection of Bed and Breakfasts represent the finest choices of lodging in the state of Kentucky, and are the perfect places to unwind, relax, and enjoy a quiet and delightful getaway. At our member Inns, you'll find a sense of peace and serenity, incomparable natural beauty, and hospitality brimming with Southern charm. Make someone's holiday extra special this year, and show them just how much they mean to you with a gift certificate to a Kentucky Bed and Breakfast. Get yours today!

Holiday Gift Certificates From Kentucky Bed and Breakfasts

Whether you want to explore Kentucky's scenic Daniel Boone National Forest, Lake Cumberland, Horse Country, Bluegrass Country, Mammoth National Caves, take a tour of Bourbon Country, or whether you'd prefer to just sit back and relax while we pamper you in style, Kentucky's collection of Bed and Breakfast's are the perfect place to spend some quality time this winter. Our Inns are a destination unto themselves, many of them having earned top distinctions in their categories and regions.

When you purchase a gift certificate with the Bed and Breakfast Association of Kentucky, it can be redeemed at any one of more than 100 Bed and Breakfasts around the state. You can specify any denomination amount, and you'll receive a beautiful, customized certificate that can be gifted for the holidays. There's a 1 year expiration date for all gift certificates, which gives you and/or the recipient plenty of time to plan the perfect getaway. And special for this holiday season, when you spend $250 or more on gift certificates with the Bed and Breakfast Association of Kentucky, you'll receive a $50 bonus.

Get ready to watch your loved one's face light up when you present them with a gift certificate to a Kentucky Bed and Breakfast this holiday season. It will undoubtedly be their favorite gift of the season! Purchase your gift certificate today.